Tip #41:
Hilton guarantees that Hilton websites will have the best room rate.
Read more about Hilton's Best Rate Guarantee
. PointMaven.com always links directly to the Hilton-branded websites. Why book anywhere else?
Tip #79:
Get the Citi HHonors Credit Card and Boost your Points!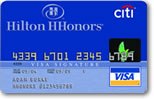 15,000 Bonus Points
No Annual Fee
Silver VIP Membership (1st Year)
Click for More Details.